September 19, 2019
---
REGISTRATION NOW OPEN FOR 2020 ALBERTA WINTER GAMES REGIONAL CAMPS
Registration is now open for 2007-born male athletes, as well as 2005 & 2006-born female athletes to take part in regional selection camps for the 2020 Alberta Winter Games. The 2020 Alberta Winter Games run February 14-17 in Airdrie. INFO > | MALE REGISTRATION > | FEMALE REGISTRATION >
---
COACH AND TRAINER APPLICATIONS NOW OPEN FOR 2020 ALBERTA WINTER GAMES AND ALBERTA CUP
Hockey Alberta is now accepting applications for coaches and trainers for the 2020 Alberta Winter Games (male and female programs) and the 2020 Alberta Cup. The deadline for all applications is Friday, October 4. INFO >
---
ALBERTA HOCKEY HALL OF FAME NOMINATIONS NOW OPEN
Is there a member of the Alberta hockey community you feel should be recognized for their contributions? Nominations are now open for the 2020 AHHF Induction Class, which will be comprised of individuals and groups or teams who have made a significant to hockey during their time as an Alberta resident. Nominations will be accepted until November 30. NOMINATE AN INDIVIDUAL > | NOMINATE A GROUP/TEAM >
---
COACH OF THE MONTH IS BACK FOR THE 2019-20 SEASON
One coach will be selected each month from October through March and will receive a coaching package valued at over $500, sponsored by Players Bench Team Apparel. Nominations are now open! NOMINATION FORM >
---
FUNDRAISING FORE YOUR TEAM
Canada Golf Card has partnered with the Hockey Alberta Foundation and the Every Kid Every Community Program to create a fundraiser fore your team. Canada Golf Card is Canada's Favorite Golf Savings Program with over 800 Golf Courses participating across Canada, giving its members access to 4 discounts per course (including the USA and Mexico), featuring 2 for 1 golf and more! INFO >
---
THANK YOU FOR ATTENDING OUR SAFETY LEAD TRAINING SESSION
A big thank you to all of the associations that attended the Hockey Alberta Safety Lead Training Session on September 7! Associations in attendance included: Airdrie, Blackfalds, Clive, Coaldale, Delburne, Fairview, Foothills, Kneehill, Lac La Biche, Lacombe, Leduc, Millwoods, Okotoks, Olds, Peace River, Piikani, Ponoka, Red Deer, Rocky, St Albert, Standard, Sundre, Wabasca, and Warburg. MHA SAFETY LEAD POSITION >
---
EVERY KID EVERY COMMUNITY APPLICATION DEADLINE - OCTOBER 31
The Every Kid Every Community Grant (EKEC) is an annual program to support hockey in Alberta. The Hockey Alberta Foundation would like to encourage all Alberta-based Community Groups, Pond Hockey Programs, Youth Groups, Recreational Groups, Community Leagues and Local Minor Hockey Associations (LMHA) and clubs who have an idea, project or program that align with the EKEC guiding principles whereby an individual OR group may benefit from a Player Assistance or Program Grant to apply. The deadline to submit your application for funding is October 31. APPLICATION FORM >
---
THREE DAYS LEFT TO NOMINATE YOUR COMMUNITY FOR KRAFT HEINZ PROJECT PLAY
Submit your nomination now for the Kraft Heinz Project Play where you can win $250,000 to build or upgrade a recreational facility for your community. Three runner-up communities will also win $25,000. Nominations close September 22. Go to KraftHeinzProjectPlay.com to nominate your community now!
---
FLAMES AND OILERS TEAM UP FOR FIRST SHIFT IN RED DEER
The Calgary Flames and Edmonton Oilers are partnering with Hockey Alberta to bring the NHL/NHLPA First Shift to Red Deer this winter. Registration is now open for the six-week learn-to-play program, which runs Saturdays at the Gary W. Harris Canada Games Centre, beginning February 15. Each week's session also will feature alumni from the Flames and Oilers. INFO > | REGISTER >
---
GLENCROSS INVITATIONAL RODEO CHARITY ROUGHSTOCK RAFFLE
The Glencross Invitational Charity Roughstock Event is giving you the chance to win this 2019 GMC Sierra 1500 Truck with the elevation package. Tickets are $100 and can be purchased by visiting the Hockey Alberta office or calling 403-342-6777. Proceeds support the Ronald McDonald House® Central Alberta and the Hockey Alberta Foundation Every Kid Every Community program.
---
CELEBRATE THE GAME WITH IIHF GIRLS' HOCKEY WEEKEND!
World Girls' Hockey Weekend will celebrate the female game from coast to coast to coast – and beyond – Oct. 4-6. Will you join the party? Get your event registered now! DETAILS >
---
INTRO TO HOCKEY MODEL FOR 2019-20 SEASON
Are you ready for the Intro to Hockey Model for the upcoming season? Check out the guidelines and playing rules for all players, ages 5-8 years. DETAILS >
---
HOCKEY ALBERTA SHOPPE - 15% OFF BACK TO SCHOOL SALE!
Get fixed up with some new gear as the school year begins! Use the code "BTS15" to receive 15% off all Hockey Alberta branded clothing! SHOP NOW >
---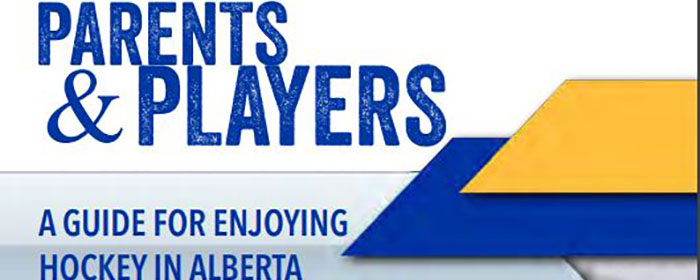 PARENTS & PLAYERS GUIDE FEATURE - LUCY TRIES SPORTS
Created by veteran sports journalist Lisa Bowes, the Lucy Tries Sports series aims to promote inclusive physical literacy and encourage young readers to get involved in sports. Endorsed by elite athletes, the series focuses on participation and the importance of play. INFO >
View the Lucy Tries Sports information in our Parent Guide!
---